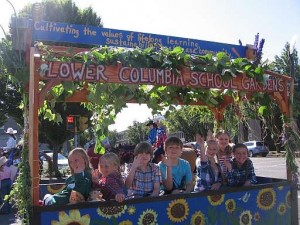 School garden kids and adults are invited to walk and ride in the parade. We will have 2 decorated trailers this year, and
we are still looking for two drivers with trucks to pull them
!
Initial decorating: 2:00 to 4:00 and again at 6:00 – 8:00 pm Wed July 3rd, behind Northlake Garden
Decorating with live flowers 7:00 am July 4th in front of Ian's house.
We will take our place in the queue at 9:45 – we are #56.  Kids can show up at 10:15.  Find us on 14th Ave between Maple and Broadway – about 4 floats back from Broadway.
Kids will hand out lavender and seeds packets as well as candy.
Contact Ian for more details