We can't wait for Spring to arrive – to see new green growth emerging in the gardens, reconnect with students in their outdoor classrooms, and work alongside our amazing team of volunteers.
Our ​S​pring ​Garden Season is going to look ​a little different this year – it is split into two 5-week sessions, with a week-long break in between:
Session One: March 19 – April 27 (Spring Break also falls within this first session)​
Garden Break: April 30 – May 4
Session Two: May 7 – June 8
As you may already know, one day a week schools have After School Garden Clubs and/or School Day Garden Programs (during recess or scheduled class time).
In general, here's the plan for the Spring Season:
After School Garden Clubs that are facilitated primarily by LCSG staff will take place during ONE of the 5-week sessions.
School Day Garden Programs will take place during BOTH 5​-​week sessions.
And yet one more way to say it: After School Garden Clubs are 5 weeks long, and School Day Garden Programs are 10 weeks long. There are some exceptions to this model, mostly involving schools where volunteer or teacher garden coordinators have stepped​ ​up and are facilitating garden programs without regular assistance from LCSG staff.
Take a look at the Spring Schedule below…
We are humbled and grateful for the ongoing support of this community. Our small staff is continually "building the plane as we are flying it"- ​always ​learning how to​ better ​distribute our time and resources more equitably in order to reach kids at all 18 School Gardens in Longview and Kelso. Your feedback and patience is appreciated and helpful as we make changes and try new things.
The School Gardens in this community are a result of many people saying, "yes!" to spaces for our kids to learn about real food, the natural world, and to practice being healthy, kind humans.
Please stay tuned for information specific to your students' School Garden as the season approaches.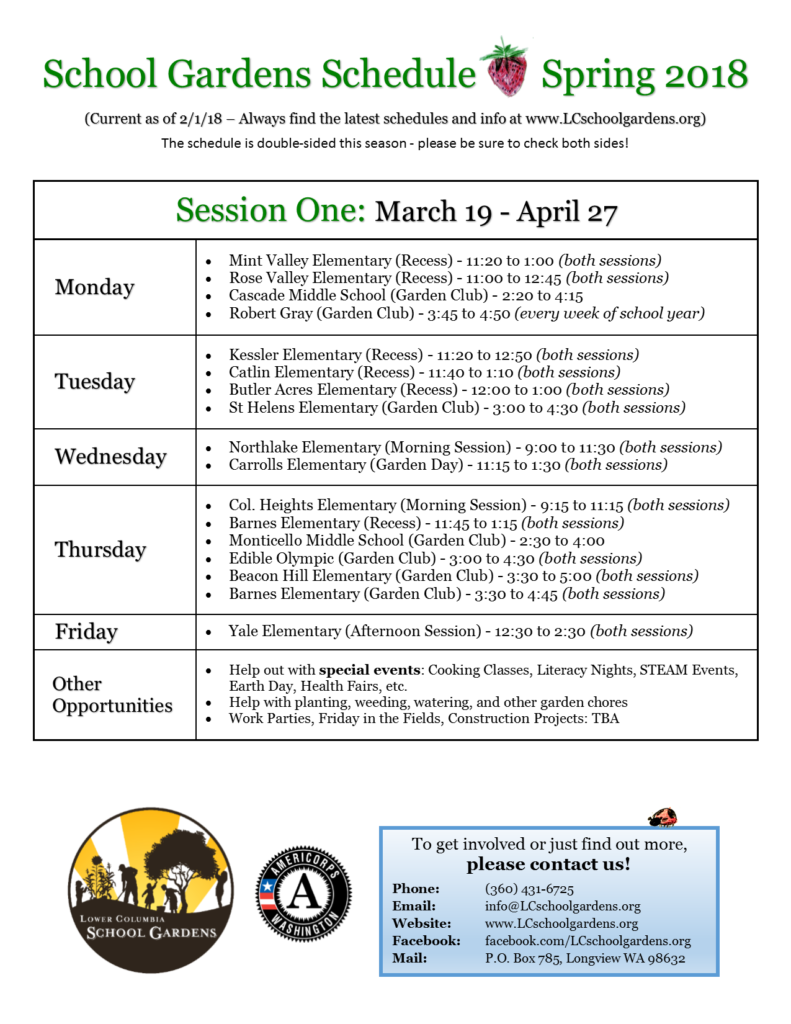 ---